Being locked out of your home, office, or car can cause frustration. Attempting to forcefully gain entry may cause harm to the lock and result in costly repair or even early replacement. The best option is to contact your local locksmith immediately. Professional locksmiths can assist you by opening the door of your property without causing any damage or removing the lock completely.
Locksmiths employ specialist equipment and methods to resolve any type of lockout scenario that comes their way. They're educated to work on a wide range of locks from several manufacturers and models. Here are some things the locksmith can do to help you get through your problem when you're locked out.
I lost my keys, now I'm locked out.
Regardless of how meticulous you are, losing your key is a typical occurrence. If you're locked out and have only one key, a locksmith may open the lock to let you in and make a new key for you. Locksmiths keep car key blank inventories on hand and can find and cut the correct one right on the spot.
To avoid a possible breach of your security, locksmiths always advise getting a lock rekeyed or replaced after the key goes missing.
I left my keys inside, now I'm locked out.
A locksmith can pick open the lock to let you back inside your home if you have left your keys on the other side of the door and locked yourself out. Technicians employ specialist lock picking equipment that allows them to unlock the door while maintaining its structural integrity and functionality.
My lock is broken, now I'm locked out.
Call a locksmith to open the door for you if you have been locked out of your home because of a frozen or broken lock.
Your locksmith will examine the lock and decide whether it can be fixed or must be replaced. If a repair is feasible, your locksmith might restore it to its maximum potential performance. If it's beyond saving, they can replace it with a new one.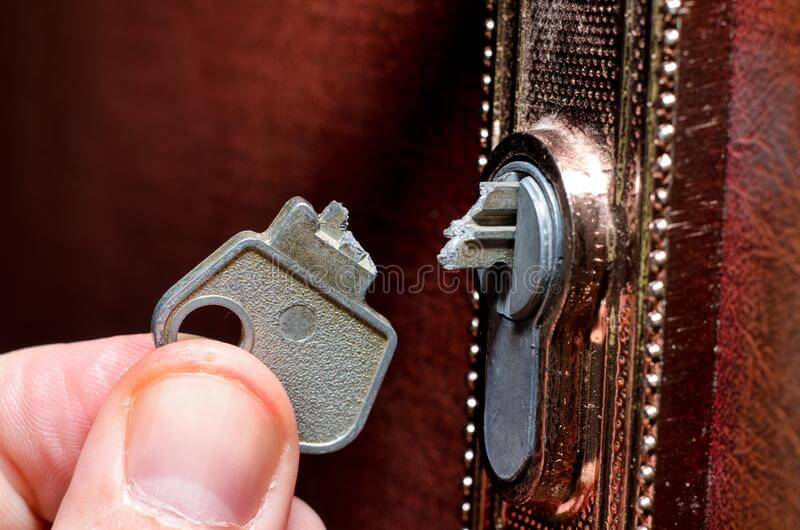 My key broke off inside the lock, now I'm locked out
Attempting to open your lock with a bent key or inserting the incorrect key will cause it to become jammed or snap off inside the lock, leaving you in a locked out position. Extracting the key or broken component yourself might harm the lock's internal mechanisms. Therefore, it is beneficial to have a locksmith assist you. Locksmiths can access specialized equipment that allows them to carefully remove the broken elements of the key from the lock and unlock the door for you on-site. They may provide you with a spare key so that you can open the lock again.
Key Point
Whatever lockout situation you may find yourself in, avoid smashing your window or breaking your lock and reach out to a locksmith for a non-invasive entry. Since your locks are the first line of defense, make sure the locksmith you choose is trained, certified, and reliable before asking him to unlock your door.
24/7 Emergency Lockout Services Tulsa Oklahoma
No matter what you experience, a house lockout, business lockout, or car lockout, we can get you back inside in the swiftest and least invasive way possible.
We understand that lockouts can be beyond frustrating when they pop up at an inconvenient time. With that in mind, we make sure to be available 24/7/365 to help you when you need us most.
Midnight Run Services is a locally owned and operated business in Tulsa, Oklahoma that specializes in any lockout situation. With more than 15 years of industry experience, we're available 24 hours a day, 7 days a week, so we can help you get back into your car any time of day or night. We're bonded and insured for your peace of mind. So if you find yourself locked out of your car, give us a call at Midnight Run Services and we'll be happy to help you out. You can check out what clients are saying about us here.